Simulations are powerful learning tools, unfortunately many of them rely on teams working closely together. How can you get around this during the pandemic?
Consider the PressTime simulation. It's ideal as a leader-level sim, because it's always been computer based. So it works well with virtual meetings using Zoom or any video conferencing platform.
We're currently using PressTime for a corporate leadership program, now in its third year. The program was so successful when the pandemic hit, that we knew we'd need to adapt to maintain the momentum.
All the things that PressTime accomplishes in a face to face session are achieved in the virtual meeting environment.  On zoom the facilitator can observe the interactions just like in the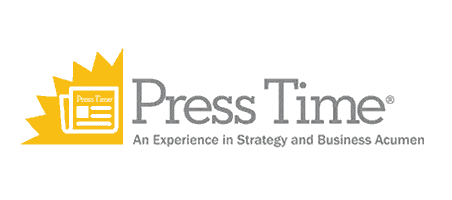 room.  Memos can be emailed to participants in real time rather than in paper memo form.
In very many ways the online version more closely simulates how teams work today, even before the pandemic.
PressTime is a day-and-a-half simulation. Your organization can use it to:
Improve teamwork and interpersonal communication skills
Develop strategic leadership and problem-solving skills
Develop improved decision-making capabilities
Identify participants' team leadership strengths and development needs
Enhance the ability to lead critical organizational projects
Here's the simulation scenario
Participants in PressTime are managers in the second largest manufacturer of offset printing plates. The company currently holds about one-third of total market share. The company's major competitor recently introduced a superior plate which sells for the same price.
A cross-functional team of managers has been assembled to put an improved printing plate on the market in six months or less.
Realistic experience
The team members include a marketing manager, planning manager, manufacturing manager, business manager, HR manager and technical managers who report to a product development manager (up to eight team members total) in a matrixed structure. The team is charged with selecting, developing and bringing a product to market. While meeting this challenge, numerous complex technical, financial, marketing, and personnel decisions must be made.
PressTime is a behavioral simulation that captures the fast-paced and diverse decisions that project managers and team members make daily. It enables participants to improve team interactions and team building, enhance strategic planning and problem solving, and explore the added value of cross-functional teams.
Jamesson Solutions can facilitate your PressTime experience or certify your team to use it on your own.