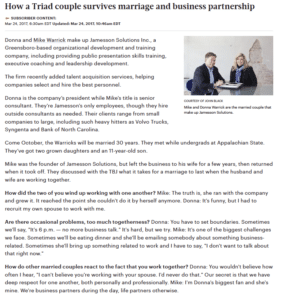 (Photo: Mike and Donna Warrick)
With our new Talent Acquisition services officially launched, we went to see reporter Steve Huffman at The Business Journal. He wanted to know about running a family business. So we told him.
Reading the article, it becomes clear that our nearly 30 years of marriage has been a learning experience in and of itself. Read the story here, if you're a Business Journal subscriber or download a copy here to read the PDF version.
(Photo: Jon Black Photography)